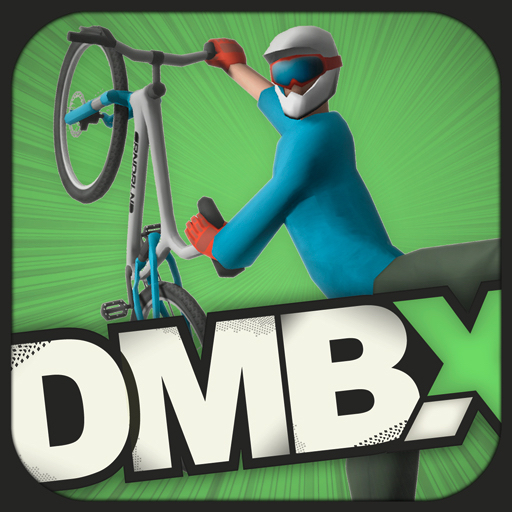 DMBX - Mountain Biking Free
Price: Free
Go fast, show incredible tricks and earn coins – that's DMBX–Mountain Biking Free in short words !

DMBX – Mountain Biking is a fresh mix of downhill racing and trick challenges featuring amazing & unique bike trails with time-, coin- and score challenges. Start your virtual biking season right now and try DMBX for FREE
- race downhill in the desert, throw down incredible tricks on the jumps or earn coins on the road – DMBX gives you all the possibilities. And don`t worry if your last day on the bike is well in the past though - anyway you don`t have to pedal yourself. You can play the tutorial level to get a feeling for the gameplay and to learn the basics of this amazing game.


*** FREE VERSION - FEATURES ***
- 2 unique game levels
- 1 tutorial level
- 2 challenges
- replay option
- HD retina-display support (iPhone 4/iPod touch 4)



*** FULL VERSION - FEATURES ***
- 10 unique game levels
- 30 challenges
- 8 individual male and female characters
- individual special trick for each character
- 8 different mountain bikes to choose from
- "career" and "quick play" modes
- replay option
- tutorial level
- training level
- HD retina-display support (iPhone 4/iPod touch 4)
- game center achievements & leaderboards



VISIT US – randerline.com 
FOLLOW US – twitter.com/randerline  
LIKE US – facebook.com/randerline  
WATCH US – youtube.com/randerline  


*** COMPATIBLE DEVICES ***
DMBX - Mountain Biking Free is compatible with 3rd (32GB & 64GB) and 4th generation iPod touch, iPhone 3GS, iPhone 4, iPad and iPad 2.

***IMPORTANT NOTICE***
If you experience any problems with the game or in case you have any questions or comments, please contact us directly - support(at)randerline.com. You may also contact us by visiting our website randerline.com. We will read and account for all reviews here, but we can only answer and help you via email. Thank you.
---Show More---
90 user ratings.
Version: 1.0.0
| | |
| --- | --- |
| Game Center | Not Enabled |
| Content Advisory Rating | 4+ |
| File Size | 41.1 mb |
| App Website | Click here |